Osaka Insititute of Technology participated in "Solar Car Race Suzuka 2021″
2021.08.31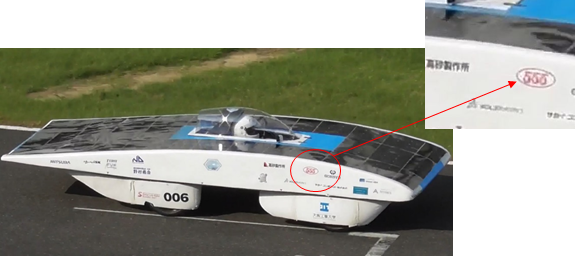 Location: Suzuka Circuit (Suzuka, Mie, Japan)
Date: July 31, 2021
"Solar Car Race Suzuka 2021″which has been held since 1992 and this race is final was held.
The Osaka Institute of Technology participated in the 5-hour endurance race, which is the
highest class in this competition with 24 entries, and they finished in 6th place in Olympia
class and 9th place overall, better result than the previous competition. We have a technical
cooperation relationship with Osaka Institute of Technology, and our 555 brand logo is on
their car. Their goal is participation in the annual international competition which is held in
Australia. We will continue to support them who have the goal of the international stage.
We look forward to their success in the world!!
【Official website of the Osaka Institute of Technology Solar Car Project】
* 11 entries in Olympia class – standard of Fédération Internationale de l'Automobile(FIA),
7 entries in Dream class – national standard, and 6 entries in Challenge class – restricted
national standard, total 24 entries participated in this race.