Opening of All Japan rally championship "Shinshiro Rally 2022″
2022.04.04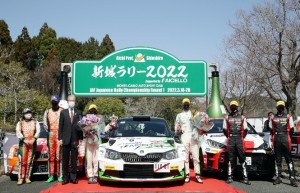 Location: Shinshiro, Aichi, Japan
Date: Mar 18, 2022 – Mar 20, 2022
Proud 2nd place overall from opening of 2022 season!! We beat GR YARIS, champion of last season!
At the first day, while another new Fabia in the same class (JN1) was leading the group, our team kept 2nd
place with tenacious driving at SS1 to SS3. At final day, they were overtaken by GR YARIS (Mr. Katsuta) at
SS5, and dropped 3rd place, but regained their position at final SS!! They finished 2nd place overall with just
3 seconds ahead of GR YARIS. However, the new driver, drove new Fabia took 1st place at this opening, was
actually driver Mr. Kovalainen. He finished with 52 seconds ahead of our team. He was the pilot of F1 before,
and has amazing driving skill. We are looking forward to seeing how our driver Mr. Fukunaga and co-driver
Ms. Saida will beat new rival who knows the fastest world. Our fabia from "THREE FIVE MOTORSPORTS",
the fastest Fabia, last champion GR YARIS, and others finally are all here. Of course, it is our Fabia that will
finally take the lead role on the big stage of this season's All-Japan Rally!!
We have been supporting Mr. Fukunaga and Ms. Saida!! See you next race in Karatsu!!
Their performance is now available on our YouTube channel, Facebook, Instagram, and Twitter.
We would appreciate your continuous support!!