All Japan Rally Championship Round 2 "Tour de Kyushu 2022 in Karatsu″
2022.04.08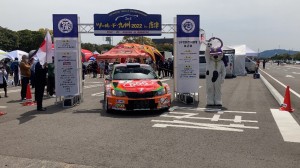 Location: Karatsu, Saga, Japan
Date: Apr 1, 2022 – Apr 3, 2022
Last season in Karatsu, no one could not defeat our team.
On the first day, our team drove well with good tire settings and feeling in SS1 and SS2. However, in SS3,
trouble occurred with the accelerator pedal. They were forced to retire SS4. On the other hand, rivals
finished SS without any troubles. Despite the tough result of the first day, the team made repairs possible
and challenged the final day, hoping to somehow get Fabia to run. In SS7-SS8, he set a good time of 2nd
place, and in the last SS, he burst a tire, but he finished the race with his Fabia which was damaged all over
its body. They didn't get any points, but we are sure of that Fabia, controlled by Mr. Fukunaga and Ms.
Saida, will show its true potential from now on.
"Giant Killing" can only be done by our team. Don't miss more races to come!!
We have been supporting Mr. Fukunaga and Ms. Saida!! See you next race WRC in Croatia!!
Their performance is now available on our YouTube channel, Facebook, Instagram, and Twitter.
We would appreciate your continuous support!!